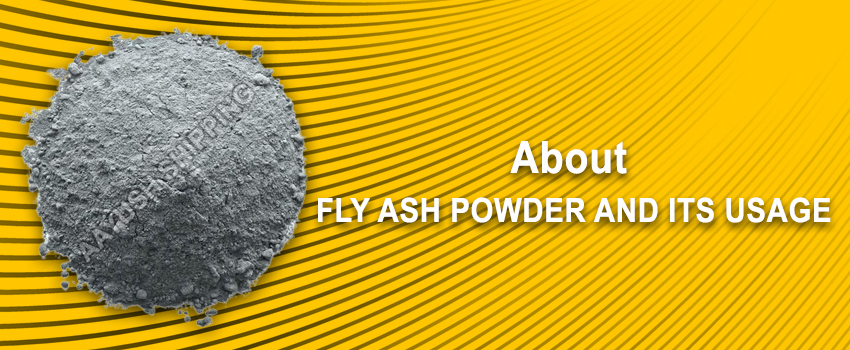 In electric generating power plants, burning pulverized coal produces fly ash, a fine powder. Fly ash is the term for the residue that results from coal's mineral impurities fusing as they exit the combustion chamber, then cooling and hardening.
Fly ash from Fly Ash Powder Exporters is a pozzolan, a substance made of alumina and siliceous material that, when combined with water, makes cement. Fly ash is transformed into a substance that resembles Portland cement by the addition of lime and water.
Applications:
This qualifies fly ash as a key component in a variety of products, including hollow blocks, mosaic tiles, and mixed cement. Fly ash, when added to concrete mixtures, increases the concrete's strength and segregation, as well as making it simpler to pump.
Many cement-based products, including poured concrete, concrete blocks, and brick, can employ fly ash as their primary ingredient. Portland cement concrete pavement, often known as PCC pavement, is one of the most popular applications of fly ash. There are significant financial benefits to using fly ash instead of concrete when building PCC roads. Authorities have come to accept fly ash as a filler in mines and for use in embankments.
Fly ash from Fly Ash Powder Exporters is commonly substituted for Portland cement at a rate of 1 to 1.5 pounds of fly ash for 1 pound of cement.
To make room for the higher volume of fly ash, less fine aggregate should be added to the concrete mix.
Types of Fly Ash:
Fly ash comes in two main categories: Class F and Class C. Class F fly ash has particles that are partially coated with molten glass. This significantly lowers the chance of enlargement brought on by sulfate attacks, which can happen in fertilized soils or close to coastlines. Class F typically contains less than 5% carbon and has a low calcium level.
Class C fly ash is similarly resistant to chemically induced expansion. It has a higher calcium oxide content than Class F and is more typically used for structural concrete. Fly ashes with a carbon content of less than 2% that are heavy in calcium make up most Class C fly ashes.
Currently, fly ash is used in more than half of the concrete that is poured in the United States.
The dosage depends on the nature and reactivity of the fly ash. Class C fly ash is often utilized at dosages of 15 to 40%, whereas Class F fly ash is generally used at dosages of 15 to 25% by weight of cementitious material.
Benefits:
In certain markets, fly ash can be a more affordable alternative to Portland cement. Given that it is a byproduct and has low embodied energy—the amount of energy used in manufacturing and transporting a construction material—fly ash is also acknowledged as an ecologically beneficial resource. In comparison, Portland cement has a relatively high embodied energy since it uses a lot of heat during manufacture. Compared to Portland cement, fly ash uses less water. Other advantages are:
creates a different set of timings
high increases in strength, based on the use
Can be added as an ingredient
regarded as a low-shrinkage material
produces solid, smooth-surfaced concrete with fine details.
very good workability
minimizes bleeding, permeability, and crack issues